So, I've been spending a lot more time trying to learn and research NFTs the last few weeks, and this post is an outcome of that. This is largely thanks to an incredibly dull crypto market. I do hope you learn something here that can help you identify a good NFT project.

I do not claim to be an expert in this subject, and what I've listed here is purely my own learnings. So take what makes sense. As a disclaimer, there are tons of crappy NFT projects out there. So if you end up buying some rubbish, I'm not responsible.
I think the NFT space is here to stay. There will be periods of incredible interest and disinterest. But overall this space is bound to see some incredible innovation in the coming months.

If you are clueless about NFTs, I'd suggest you take a quick read of a post I'd written last year. Besides, there are tons of incredible videos outlining the basics of NFTs. An "NFT for Dummies" on YouTube will throw up a lot of cool stuff.
I recently picked up a project called Superlative Apes and think of it as a cool project. I'll try and list down my learnings and stuff in selecting this project. Hopefully, that's helpful.

A disclaimer here: I'm pretty out of luck when it comes to whitelists. So a lot of the material down below relates to purchases in the secondary market.
Firstly, time to show off my ape 🙂
(I've purchased this along with a friend. So, both of our fortunes are directly linked to this ape)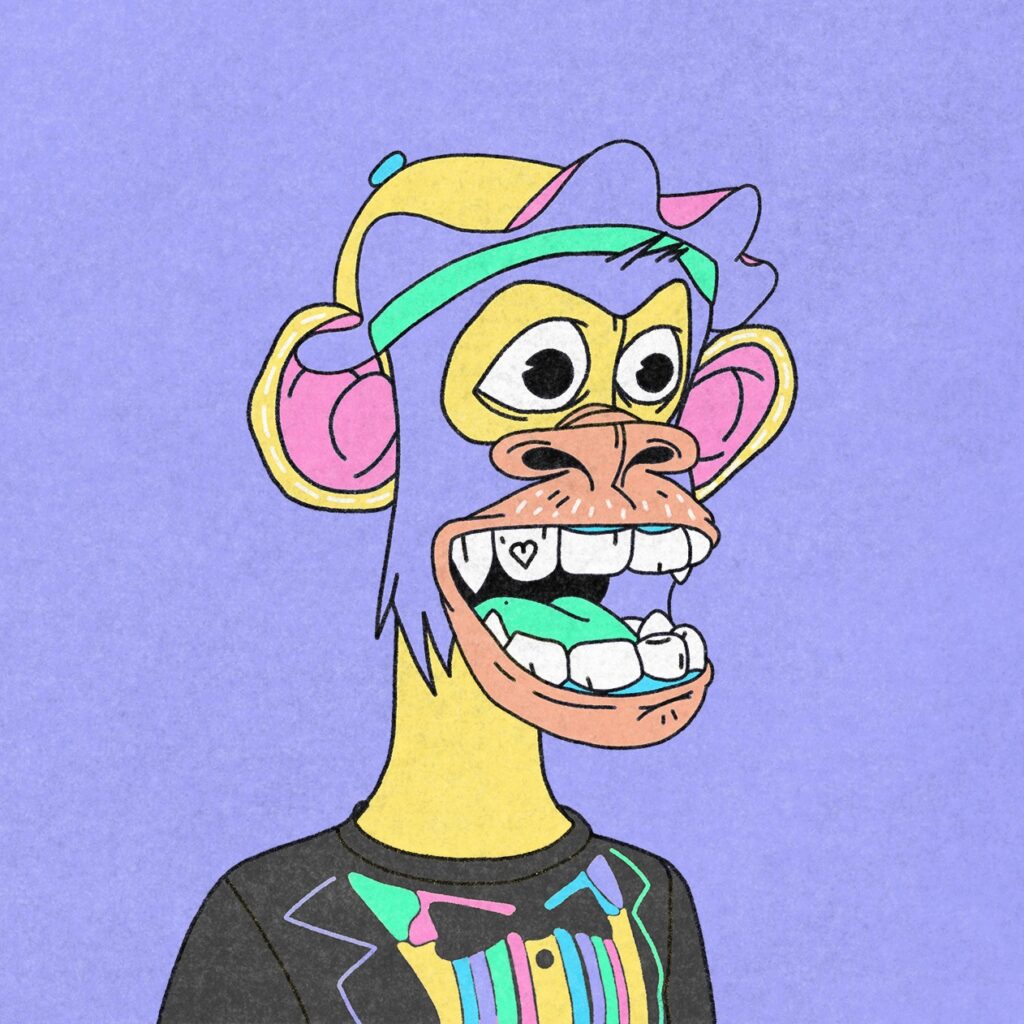 So here goes. Here are 5 handy tips, I've been using to identify a prospective project in NFTs:

1. Check the activity of projects: Which project is hot, what's not

I use Opensea.io, one of the biggest NFT marketplaces. There are a ton of others: Looksrare.org being in the news recently, Rarible. Personally, I prefer Opensea – maybe it's the convenience of use. I tried using Looksrare, but the interface for Opensea seems way better.
There's a tab called Activity under Stats. This can be filtered based on Listings, Sales, Bids and Transfers. I generally run through these tabs at random. It gives you a perspective on which projects are generating interest among the community, what's getting sold, which is inviting bids and so on. Spend sometime here. Come back after a day or two. You'll begin to notice projects which tend to repeat. A cool thing here is also the fact that it lists prices. So depending on you budget, try and narrow down on say 4-5 projects. I, typically, and this is a personal choice look at projects with an upper price range of 0.25 ETH. Ofcourse, I'm trying to spot some generally in the range of 0.1 ETH. Also, remember you'll be paying some high gas fees, thanks to Ethereum. You can look at projects on different chains to save on gas fees. While I complain about gas fees, I've limited myself to Ethereum.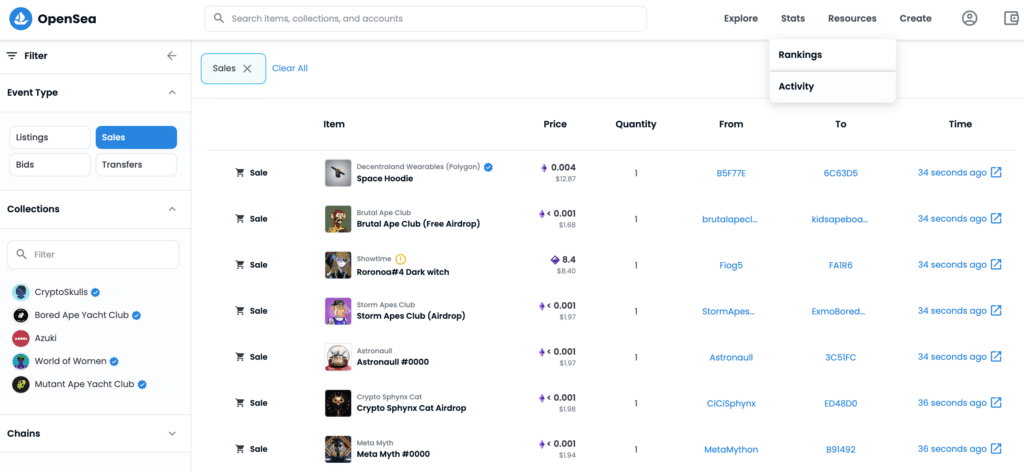 2. Now that you've identified a few projects of your choice, time to delve into them
Out of my own bias, and trying to entice you to buy a Superlative Ape, I'm sharing a screenshot of the projects page. Each project on Opensea has a page dedicated to it. Here, you can get an overview of what the project is, and the activity and interest it is seeing. Somethings to note:

A. Check the Floor Price: This is the lowest price you can purchase an asset of the project currently. In this case, you can buy one of the Superlative Apes at a price of 0.509 ETH

B. Check the Activity chart: This plots the average price and volume for the project. You typically want to see a project with a sustained price rise, along with the spike in volumes regularly

C. Check the sales activity: Right below the price/volume chart, you'll see the activity of sales. Here, as you see the last sale of an ape happened two hours back. If you scroll further, there have been 15 sales in the last 10 hours. There's no right or wrong here – you need to observe this for a couple of days before you decide to take a plunge into a project. And this is just one indicator.

D. Look at some of the other things on this page: Check the number of items. In this case, it is 4400, which is a fairly limited size. The volume traded. In this case, that is 1600 ETH. Is that a lot? Compare it to the other projects to get a feel. For a perspective, Cryptoskulls, currently a top-ranked project on Opensea, has traded over 14,2000 ETH.

Do this across the projects shortlisted and pick 1-2 that are looking good.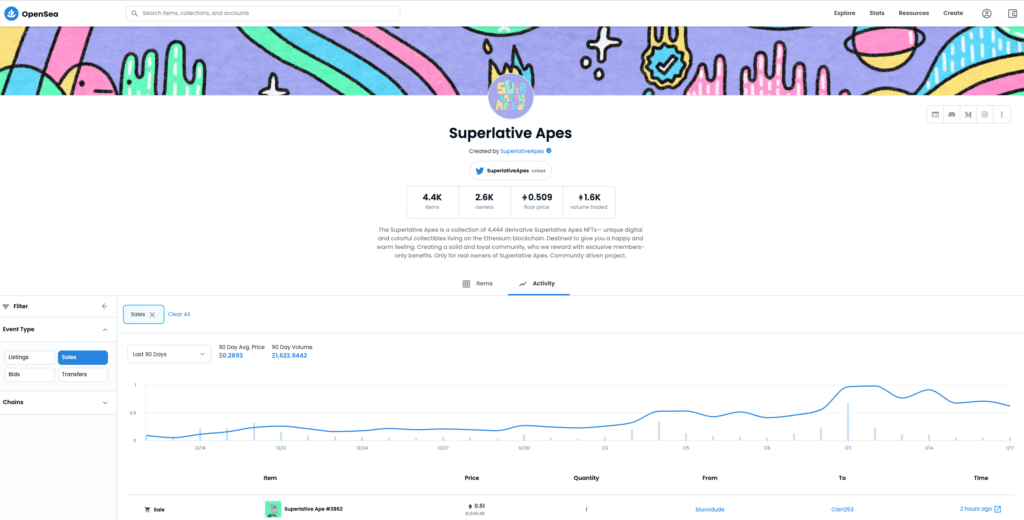 3. Time to look at your project in detail
Typically there would not be a lot around an NFT. Not many projects (in fact, none that I know of) would have a whitepaper of the kinds you see in crypto projects. So what else do you look for? And how do you figure out if a project is not a scam.
Here's something I look at:
A. Twitter: Check the number of followers to a project, how regularly does the team tweet, the interaction of the community with the tweets. A project may have a hashtag to it. Check the recent activity for this tag. the hashtag used for the Superlative Apes is #SLAPES. I try and look at it regularly to see what's happening

B. Other social platforms: In most cases, this would be Discord when it comes to NFTs. Join the Discord channel and see what's the level of engagement there

C. Website: Websites are pretty much basic when it comes to NFTs. However, there are a few things you can look for: team (which in many cases within NFT would be hidden), roadmap, and so on

D. Attend a call / AMA that the team is hosting. If there's none, check on when they hosted one last

E. Check for partnerships and interaction with other projects


4. Roadmap's crucial
Now, please note that many a project merely ape a roadmap from a previous project. So you'll need to look at the roadmap of the project you've identified and compare it to other bigger well-known projects. It can help big time.

See what's lined up. Going back to Superlative Apes (this post isn't sponsored by these guys. Like I said, I'm invested in it. Hence, the example), they've got an airdrop coming for holders. This could entitle 50% of holders to a mutant ape and the rest of the 50% get a whitelist spot. To me, this seems like a trigger for the price. So, check the roadmap and figure out what could give the project a boost.

5. Beware of fakes/rip-offs
Remember, there are tons of projects apeing some of the more successful ones. Just because you see a project (Mutant Ape in Bored Yatch Club) with a floor price of 0.0005ETH, which sounds like the more popular one (think Mutant Ape Yacht Club), doesn't mean you jump into it. Besides, the rip-off is called Yatch, not Yacht. Check the rest of the details I listed above, before making a decision. Remember, 90% or more of these projects will go nowhere but down. So invest carefully.

As always, invest an amount you're willing to lose or one which does not give you sleepless nights. Enjoy the process and learn along the way. Just because someone's shilling an NFT should never be the rest for you to ape (no pun intended) into it.