I've spoken about this on Twitter earlier, and just thought of building on that in this post. The indicator I'm talking about is the 100 DMA or the 100-day moving average. If you're new to technicals, here's a post that can get you up-to-date. Trust me, it doesn't have to be all that complicated. The simpler you keep your charts, the easier it gets.
Getting right into what I've been seeing with the 100 DMA, here's a price chart of Bitcoin with this indicator alongside.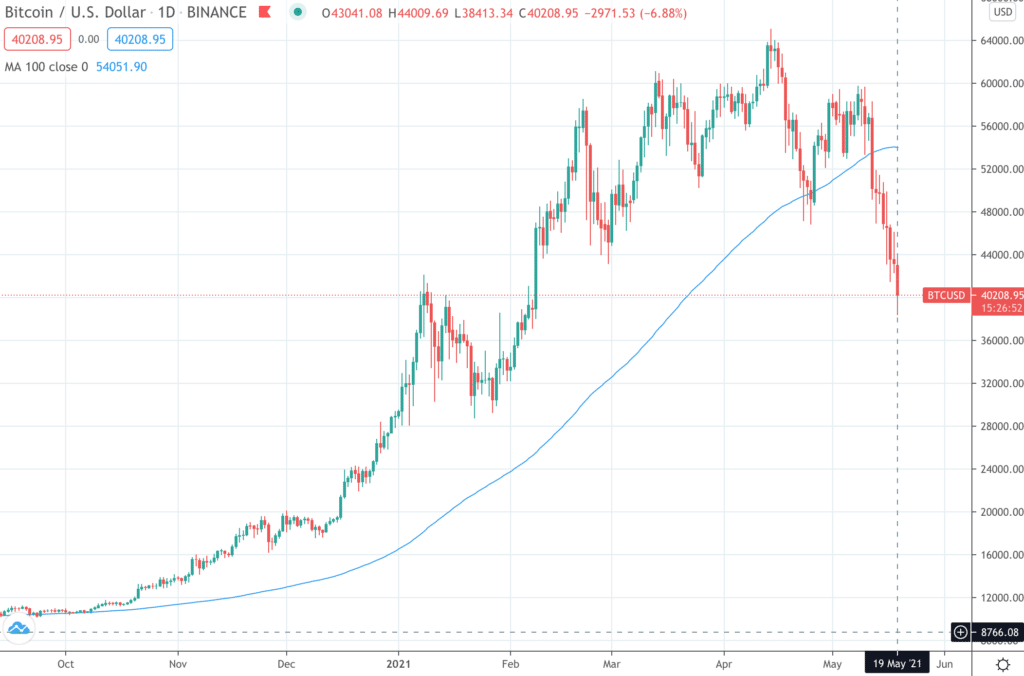 That blue line signals what is the 100 DMA. Bitcoin has traded over that level for quite some time now as is evident on the chart. 23rd April is when it tested that line, dipping briefly below it over the next couple of days.
It then bounced back, till there was a complete breakdown on the 12th of May.
Now here's why I give this significance, and why I think it ought to be given adequate attention. Bitcoin has dipped only a handful of times below this line over the last few years. Here's what happened then:
March 2020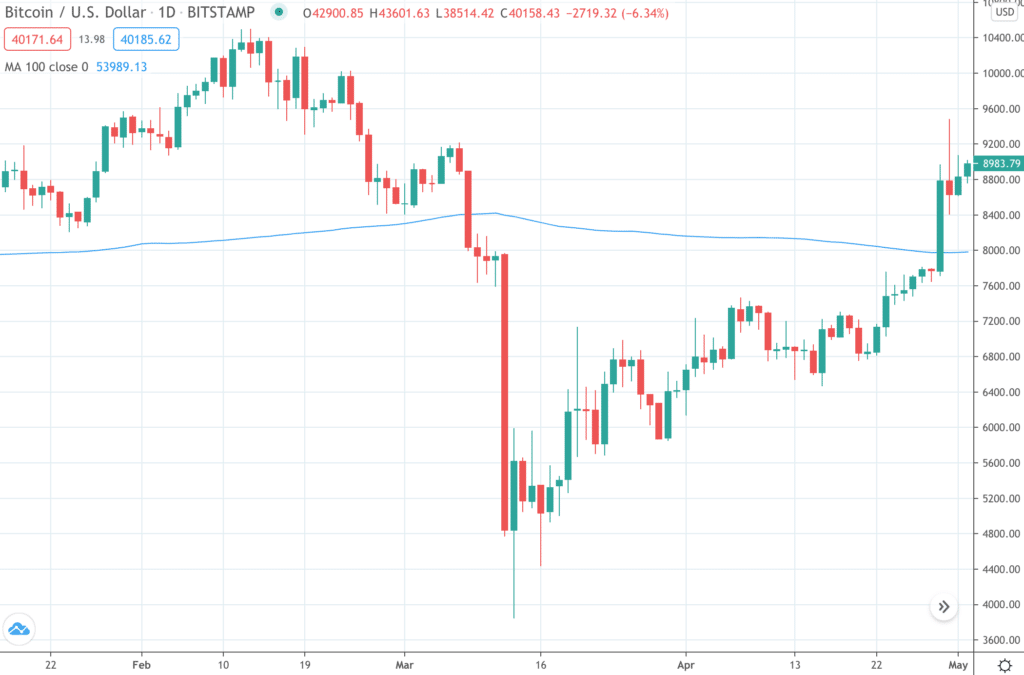 See that? It breaks that level at the $8400 levels. Dipped to a sub-$4000
September 2019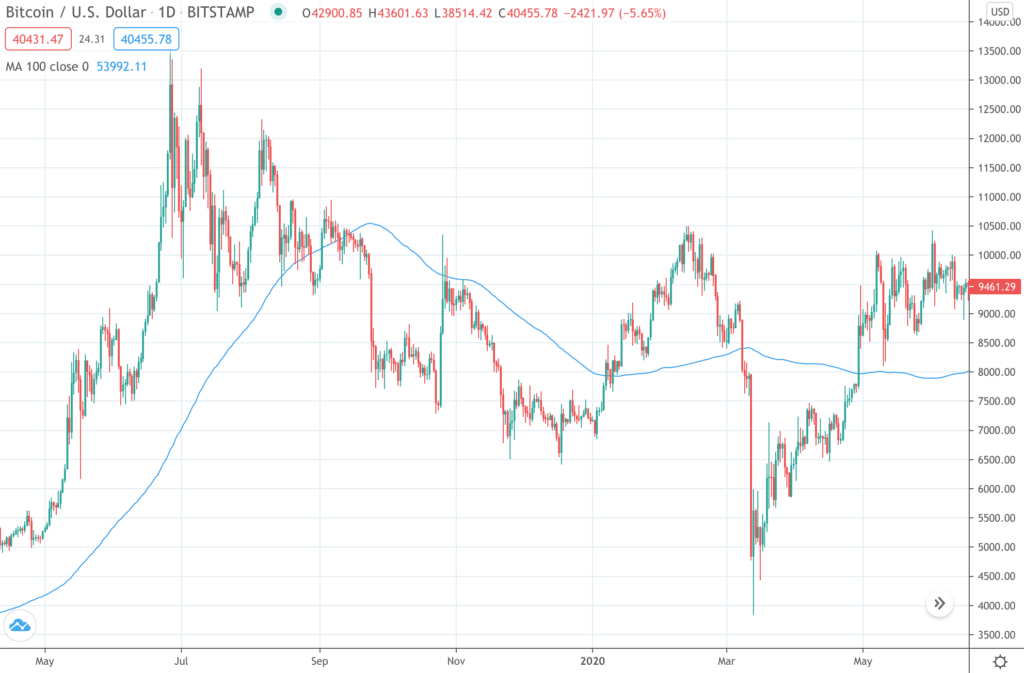 Notice it moving above that blue line in the initial part of the chart and doing well. Breaks that line, and it doesn't look so good then.
January 2018
This obviously around the major crash. See how it bounced off that 100 DMA in September 2017, continued moving up brilliantly. When it eventually broke that line in January 2018, moving back up above it was difficult. It tried, but the pull on the downside was far stronger.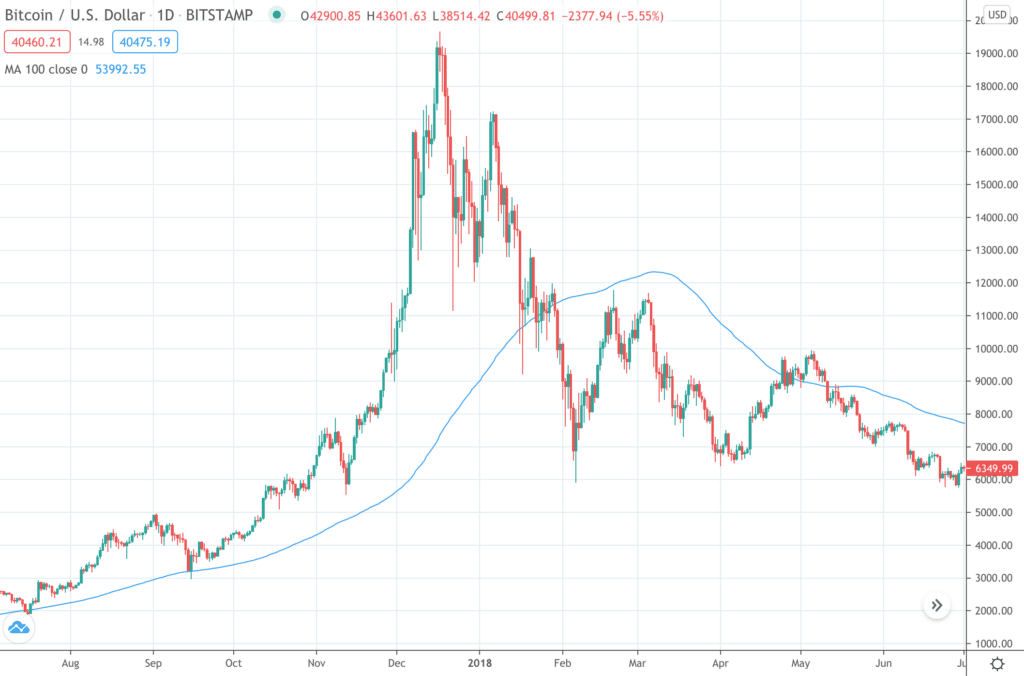 ---
I'm personally hoping this does not play out 🙂
The purpose of this post is not creating fear. Especially on a day when FUD is rampant and thriving. There's just one purpose of this post and it is educational.
This pattern and indicator is something I've spoken of earlier. Am keeping a tab on it. Am no expert in this and if anyone claims to say they are experts, run in the other direction. I'm learning every day myself. Just sharing what I see. I'm still holding on to my portfolio and continue to believe in those plays. Quant, Zilliqa, eRSDL, Kusama, to name a few. As always, do your own research.