Amid the race to try and pick the next 1000x, participants in the field of cryptocurrencies often ignore what may be the most crucial and critical element of this space. Adoption for utility. Yes, it's cool if you've made a 100x or 500x on a coin (as long as you've booked profits). But, beyond that, everyone in this space ought to give some thought to, or play some part in, enabling crypto adoption. That's what will ensure long term success in this space. Cryptocurrencies aren't just a fad. They have a purpose, a utility. Touted as the currency of the future, they can offer ease in transactions, lower costs, transfers and the likes. I plan to focus on areas of adoption of this space with some posts going ahead. The first space I want to focus on is e-Commerce or shopping, letting users to shop using crypto.

According to a new survey by Mastercard, a growing number of consumers prefer using cryptocurrency when making their purchases. The study across 15,000 participants from North America, Latin America, the Asia Pacific region, The Middle East, Africa, and the Caribbean, showed that 40% of those polled plan to use cryptocurrencies for their purchases in the next year. It adds that millennials are most likely to shift to crypto, with 67% of the millennial respondents saying they would use cryptocurrencies.
Here are three platforms that already have or are otherwise soon launching platforms that make it possible to shop using crypto. This post is for educational purposes and not a recommendation on the token for any of these. Obviously, as with all other posts, do your research if you're looking to invest. Specifically listing these cause they caught my eye, given the platform, team and plans for scalability and adoption.
---
Shopping.io was established as of December 2020. In their own words, Shopping.io provides a platform that establishes a new way to make online purchases with cryptocurrency. It provides direct access to major hubs of E-commerce such as Amazon (US), Walmart (US), and eBay (US) where one can currently make purchases using cryptocurrencies.
SPI is the native token to unlock plan discounts and benefits on the platform
While SPI is not required specifically to make purchases on the platform, holding SPI can attract discounts on purchases
International shipping is available for advanced plan members (holding $6000 worth of SPI)
This project has been in the works for the past three years and is soon close to launching its marketplace. In their words, the planned ZoidPay Marketplace will enable one to buy anything from anywhere using cryptocurrencies. Think ordering a new laptop from Amazon with bitcoin. Or paying your Netflix subscription with BNB. Or getting some groceries with their native token ZPAY.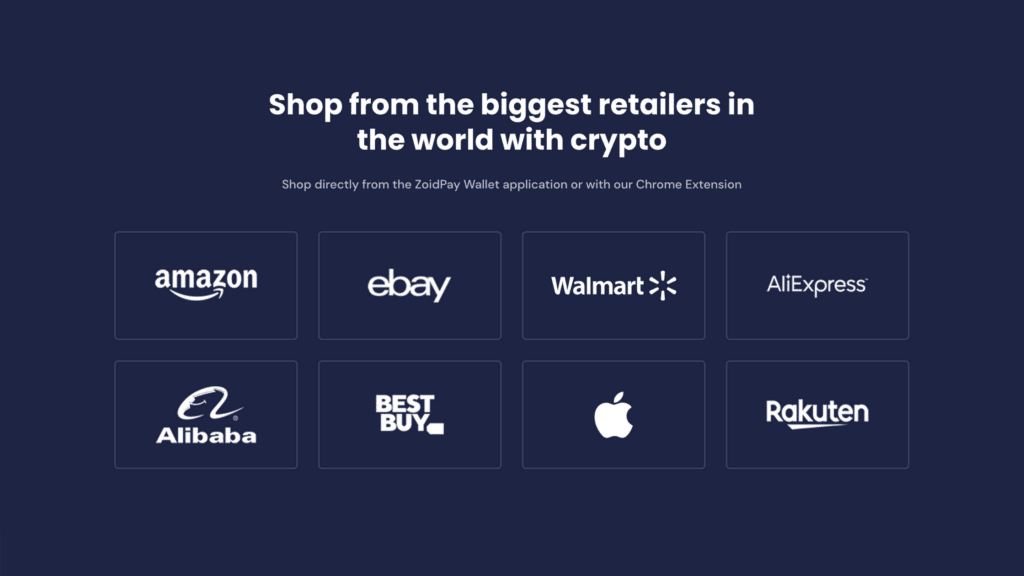 Personally, I'm keeping a watch on this project given a packed roadmap over the coming quarters. Some launches besides the ZoidPay Marketplace include:
ZoidPay Merchant
ZoidPay Staking
Crypto cards issued by ZoidPay
Besides,
ZPAY is ZoidPay's native token, currently listed on Hotbit.io
Zero fee transactions for peer-to-peer ZPAY transfers
Access to deals & discounts from merchants
Quoting them, StormX is an app and Chrome extension that allows users to earn crypto in a multitude of ways, including shopping. The app boasts of over 700 stores available with cash backs between 0.5% and 85%, depending on one's StormX Reward Membership level.
StormX is the native token to the platform
The StormX Debit card is soon expected to launch
---
The above-listed projects are just three I've come across. There are many more and I think this space has enough for many more to join in. In summary, I believe the adoption of cryptocurrencies in e-commerce is a given, and this space is set to grow leaps and bounds in the coming years. This is because,
Cryptocurrencies, in general, represent a simplified transaction process (lower cost and faster time). This is bound to get better over time
Innovation in this segment is bound to make it more attractive to the consumer. Already the discounts/rebates possible using crypto to shop seem to outweigh that from the usage of fiat currency
Let me know other projects in this space you're keen on. Drop in a comment or message with your thoughts.